In the middle of July 2002, the first group of a powerful pusherboat, named Ursa Major, and two hold barges of 30,000 DWT was delivered from a Chinese shipyard to the owner ILVA Servici Marittimi (RIVA Group). The second group of a pusherboat, Ursa Minor and remaining two barges followed the first group about one year later to form a big fleet of 2-pushers/4-barges destined to transport of hot-rolled coils and other steel materials over 710 nautical miles' route from Taranto mill of Italian steel maker ILVA to the port of Genova in a perfect systematic drop-and-swap cyclic operation. The fleet has a transporting capacity of more than 4,000,000 tonnes a year in this route.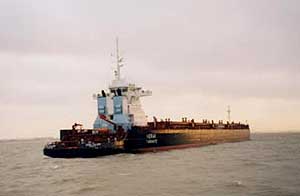 All the pusherboats and barges were built at Jiangyang Shipyard, Yangzhou, P. R. China to the design of Conan Wu & Associates Pte. Ltd., Singapore, to be classed with RINA-Registro Italiano Navale for unrestricted service, and Dott. Ing. Francesco de Ferrari, Ing. de Ferrari & C. sas., Genova, served as the supervisor.
The 48 metres long pusherboat is powered by two Wärtsilä16V32LN, each developing 8,920 HP at 750 RPM, to drive controllable-pitch propellers, and is equipped with Taisei Engineering's 3-pin supporting rigid-connection coupler TRIOFIX TK-100S as the connection means. In the speed trials with about 85% loading, the highest speed over 16 knots was attained at 100% output, and 15.5 knots at 85% output.
After delivery, each of these pusherboats, pushing the first barge loaded with 28,000 tonnes of coal, made the maiden voyage to Italy across the rough South China Sea and the Indian Ocean and experienced stormy waves of 7 - 9 metres. Satisfied with the performance of these vessels, the owner is planning to replace four 8,000 DWT bulk carriers with a fleet of two pushers and four 16,000 DWT barges.